Hansken: booth 22 at the EAFS 2022 in Stockholm
In this age of continuous, extensive growth of digital data, it is important to keep abreast of all ongoing developments, especially when solving crime. From May 30 to June 3, the European Academy of Forensic Science (EAFS) in Stockholm is the place to be for exploring developments in the forensic science community. This conference optimally reflects the needs of law enforcement agencies combating organized crime, terrorism and new areas of criminal activity. Hansken will be exhibiting at the conference with an extensive program at multiple levels, to present the accessibility, quality and added value of Hansken and the Hansken Community.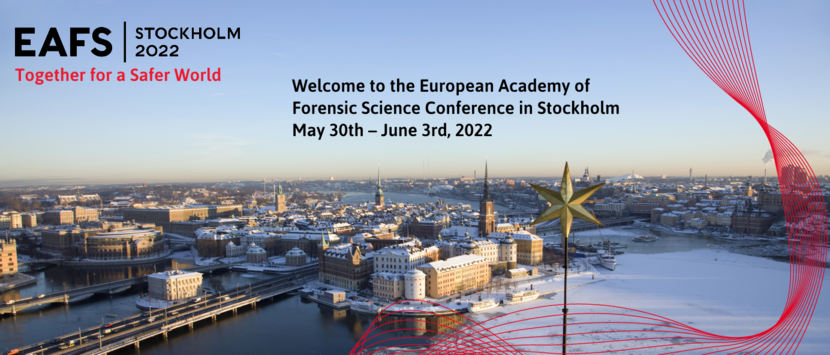 Over 1,000 forensic professionals have already registered to attend this event from May 30 to June 3, and various partners will be sharing their developments at stands and in workshops. Hansken is one of them. Visitors can find us at booth 22. On site, the Hansken team will show you how to work a case in Hansken, how the Hansken Academy elevates users' digital skills to a higher level and how the Hansken Community provides an international network for fighting crime together.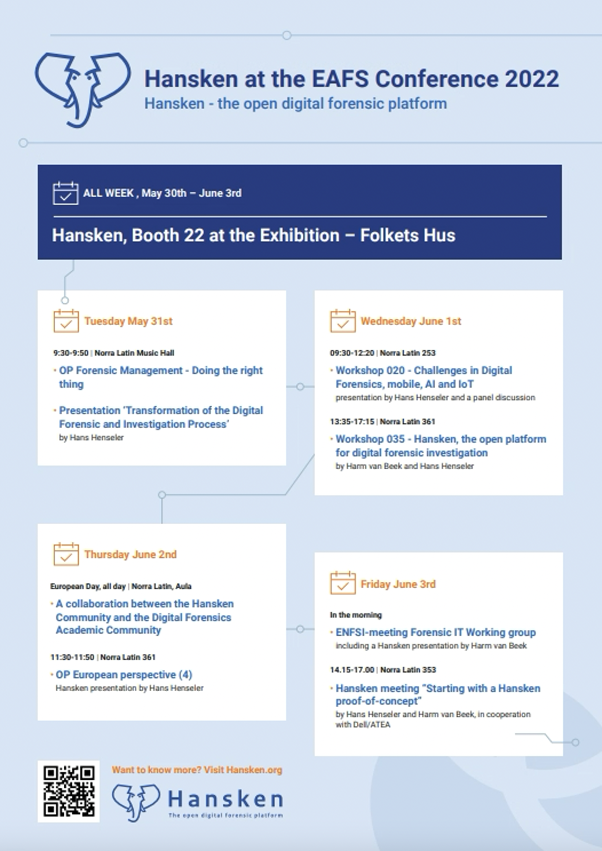 Hansken's week program at the EAFS
We will be present at booth 22 at the EAFS exhibition in the Folkets Hus all week.
Tuesday May 31
Presentation: "Transformation of the Digital Forensic and Investigation Process" by Hans Henseler, part of the Management Track
Wednesday June 1
Workshop: "Challenges in Digital Forensics, mobile, AI and IoT", with a Hansken presentation by Hans Henseler
Workshop: "Hansken, the open platform for digital forensic investigation", by Harm van Beek and Hans Henseler
Thursday June 2
European Day: Presentation: "Hansken as a testing platform for digital forensic prototypes in academic research projects such as ASGARD", by Hans Henseler
Hansken at the ASGARD booth
Friday June 3
ENFSI meeting: Forensic IT Working Group, including a Hansken presentation by Harm van Beek – morning, location TBC
Hansken meeting: "Starting with a Hansken proof of concept", by Hans Henseler and Harm van Beek in collaboration with Dell/ATEA – afternoon 14:15h – 17:00h, room 353, Norra Latin
So, if you're attending the EAFS, come and join us at a workshop or visit us at booth 22!