Royal Netherlands Marechaussee starts working with Hansken
The Royal Netherlands Marechaussee recently signed an agreement with the NFI to start using the data analysis platform Hansken in the domain of criminal investigations.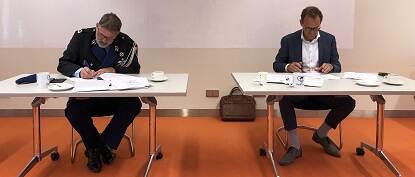 Following completion of a successful trial period, the KMar has decided to start using Hansken for investigations involving the examination of a large amount of data. Hansken is a data analysis platform that is already widely used in case investigations. It is used by the tactical investigators of domestic and international law enforcement to provide insight into and access to digital data, which includes searching for traces in digital data from seized data carriers (such as computers and mobile phones). The platform already sees extensive use by investigation services such as the Police, the Dutch Fiscal Intelligence and Investigation Service (FIOD), and other services elsewhere in Europe. 
Continuous further development 
'The amount of data and data sources to be investigated in criminal cases – particularly in fraud, murder and child pornography cases – is increasing rapidly', says Brigadier General Hendrickx, Director of Operations at the Royal Netherlands Marechaussee. 'Hansken was developed to increase the effectiveness and speed of that type of investigation, making it a highly relevant tool for us.'
'The most significant and crucial advantage of Hansken is that all users within the Hansken Community are able to collaborate on the further development of the platform, ensuring that the tool is always up to date and has the features and applications needed to optimise investigations', Erwin van Eijk, Head of Digital and Biometric Traces at the NFI, adds.
Efficient searches with Hansken
Hansken thus enables the investigating authority to carry out rapid and efficient searches within large quantities of data from seized data carriers. Searches can be made using different strategies, such as searching for words and names, or for properties of traces such as exclusively pertaining to emails, chat messages or photos, whether or not taken with a particular camera. Investigators can use the forensic search engine to keep filtering the search results until they have arrived at a selection out of all those millions of traces – the files of which can be reviewed one by one.