Digital Hansken workshops at the Dex-EU 2021
The annual Dex-EU was scheduled for November 9 and 10, 2021. Unfortunately, due to the rapidly increasing number of corona infections, it has been decided to continue the fair digitally only. Despite the lack of physical encounters, a lot of knowledge was shared and there has been an active participation in the various workshops, including two Hansken workshops on the working method with digital forensics and setting up an optimal query.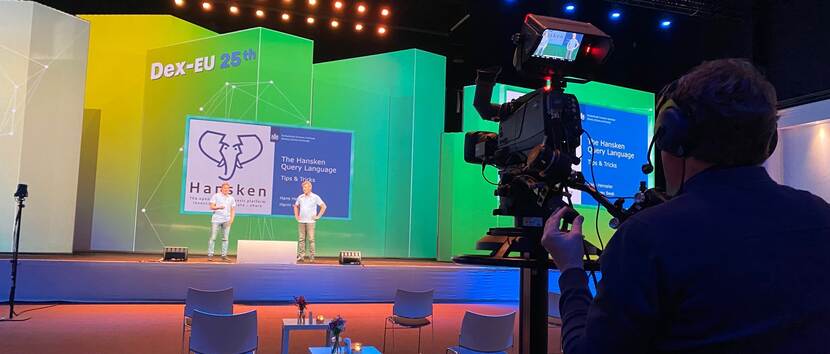 Hansken Digital Forensics as a Service
In a virtual set up, Hans Henseler and Dion Varossieau presented Hansken Digital Forensics as a Service. Hansken is designed to give access to and insight in digital data and traces originating from seized and demanded material. In recent years, this DFaaS platform has been implemented at the Dutch National Police and the Dutch Fiscal Information and Investigation Service, and others. Hans and Dion explained DFaaS concepts, gave a Hansken demonstration, and give an update on the Hansken Academy, the Hansken Roadmap, Collaboration with Academia and the (growing) International Hansken Community. A lot of the attendees actually participated, so it was a workshop with a good result and absolutely worth to watch.
Hansken Query Language Tips and Tricks
In this second workshop that took place, Harm van Beek and Hans Henseler explained the Hansken trace and data model. They demonstrated how to write queries in the Hansken Query Language (HQL). During the demonstration they will also give tips and tricks in the Hansken Expert UI and the Tactical UI. It was set up as an interactive session, but that, of course, was difficult. It did result in an animated presentation, so interesting to look back.
User interface 'HUIB' and how to work with Python 
The workshop regarding HUIB, one of Hansken's user interfaces, was unfortunately canceled. HUIB offers a simpler view of data that is in line with the way of investigation that also takes place in other forensic packages. In addition, many concepts and techniques have been added that make examining data easier for the forensic investigator, an analyst or a detective. This UI will soon be available to the entire Hansken Community and is for users ranging from beginner to advanced.
Another subject that will be presented another time, is how to develop python scripts that retrieve the information via the Hansken.py API, and how to modify traces by using the Hansken trace model.