The history of Hansken
The name 'Hansken' originates from an elephant that toured the Netherlands in the 17th century and that was sketched by Rembrandt van Rijn in 1637. As the largest land animal in the world, the elephant stands for the huge amount of data that can be processed by the software platform. Also very important: elephants are noted for their good memory.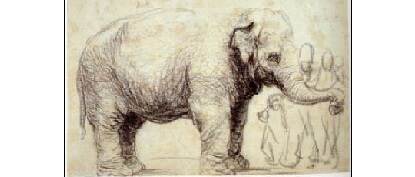 Which is an important characteristic, while the average amount of digital evidence found by investigators in criminal cases doubles every fifteen months. In order to continue to make these increasing amounts of data rapidly and easily searchable, the Netherlands Forensic Institute (NFI) developed the forensics search engine Hansken.
The start of Hansken
The Dutch National Police put Hansken into use in October 2015. The police are now able to continue to carry out digital forensic investigations rapidly and efficiently. It no longer matters whether the investigators have to go through several laptops or entire server rooms. The seized data are copied in Hansken, after which the software identifies as much evidence as possible.
Because of its design, Hansken is able to recognise huge amounts of data and makes it searchable, just like a search machine. This is necessary, for the average amount of data found, for instance, in child pornography is equal to a queue of lorries five kilometres long, fully loaded with sheets printed on both sides.
Inspectors can analyse the evidence found from behind their computers, 24 hours a day. Ultimately, the goal is to enable all tactical and digital investigators to use Hansken to search the collected data.
Successor to Xiraf
Hansken is the successor to Xiraf, the software tool that started as a research project in 2006 and that was supplied to the Dutch National Police in 2010. Xiraf was the first forensic software application that computerised the processing of seized data. But processing that took Xiraf 24 hours to complete can be done by Hansken in 30 minutes.
Xiraf made it possible for tactical investigators to secure the digital evidence themselves. Prior to that, it was the digital investigator's task to search for evidence, whereas the tactical investigators, with their knowledge of the case, are able to search for evidence that is relevant to their case. Thanks to Xiraf, the digital investigators got more time to establish the evidentiary value of a specific piece of evidence and to develop new investigation methods.
Hansken Community
We are now working with a growing group of partners in the Hansken Community. Amongst others the Dutch National Police, the FIOD and other Dutch law enforcement agencies are sharing knowledge and working on innovation together. But also international LEA and intelligence parties are joining the Hansken Community. By sharing forensic knowledge and keeping Hansken up-to-date, together we ensure that Hansken stays relevant and in the lead.